[
Back
]

Human Biometric information is unique for each individual and very useful in the person identification and Recognition works for many security works and criminals prevention. Some well-known researches included in the human biometric are:
Personal Identification
Face and Facial Expression Recognition
Finger print Recognition
Iris Recognition
Ear Recognition
Hand Geometry
Authorize Person Identification
Biometrics is used for human recognition which consists of identification and verification. For authorized person and citizen confirmation, National Registration Card or ID card is generally used in all countries of the world. The identity card contains the name, date of birth, face and finger print images of personal information.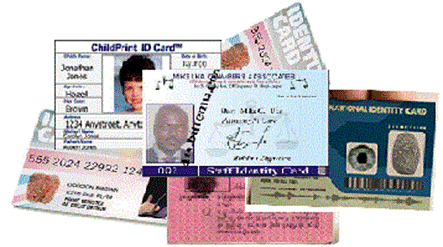 Sample ID Cards
This research is focused on the identification of Myanmar National Registration Card (NRC) holder and extraction the personal information to prevent the criminal and provide the security system. A simple and fast personal identification system is developed based on the face and finger print of biometric feature recognition. The proposed personal identification system is different from the other existing face recognition and finger print recognition system software.


Myanmar National Registration Certificate
Developing the identification System of Myanmar National Registration Card (NRC) holder
The new version of Myanmar National Registration Citizen (NRC) card has been issued since 1990. Except the unavoidable cases such as loss and destroy the cards, people do not need to change their NRC cards with new one. It means that the time lapse between current face image and face from card is above 10 years. Traditionally, the finger print image grabbed from NRC is very noisy and low quality. Age invariant face recognition algorithm is developed for recognizing the time lapsed images by the invariant features of a face. An effective fingerprint recognition system is developed using the texture-based Discrete Wavelet Transform (DWT).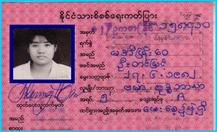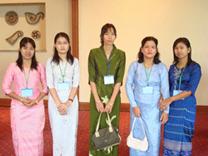 Compute the similarity between face image from NRC and face from group photo
The four different types of finger prints which obtained from standard DB, finger print scanner, inked press and Myanmar National Registration Cards (NRCs) are considered to examine the proposed system. The matching between finger print image of NRC and scan image using Eye-D scanner is performed for recognition.





Four Types of Finger prints
The record of the match individual will display when the seventy five percentages of accuracy for both investigations of face and finger print. The developed recognition system can be performed not only for the identification of the NRC holder but also the information of the matched individual can be extracted. It will also be provide the finding of the missing children and wanted person.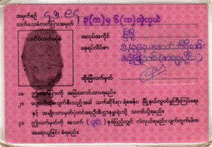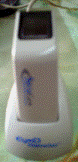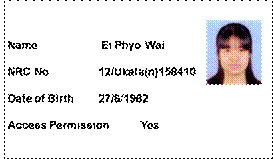 Result of Identification
Publications
Ei Phyo Wai and Myint Myint Sein, " An Effective Identification System of Myanmar National Registration Card (NRC) Holder ", The proceeding of the SICE Annual Conference 2011, Sept.13-18, Tokyo, Japan.
Ei Phyo Wai and Myint Myint Sein, " Adaptive Face Recognition System from Myanmar NRC Card", International Journal of Computer Applications (IJCA), July Edition, 2011[pdf]
Zin Mar Win and Myint Myint Sein," Fingerprint Recognition System for low quality images", The proceeding of the SICE Annual Conference 2011, Sept.13-18, Tokyo, Japan.[pdf]
Zin Mar Win and Myint Myint Sein," Texture Feature based Fingerprint Recognition for Low Quality Images" 2011 International Symposium on Micro-NanoMechatronics and Human Science, Nagoya, Japan[pdf]
Zin Mar Win and Myint Myint Sein," An Efficient Fingerprint Matching System for Low Quality Images", International Journal of Computer Applications (IJCA), July Edition, 2011.[pdf]