[
Back
]
Tenth International Conference on Computer Applications (ICCA 2012)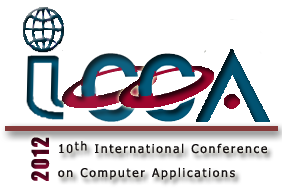 The Tenth International Conference on Computer Applications (ICCA 2012), organized by University of Computer Studies, Yangon under Ministry of Science and Technology, Myanmar, provides a forum for the presentation of technological advances and current research results in the fields of theoretical, experimental and applied computing and technologies.
Workshop Session
Together with ICCA 2012, there are Five Joint Workshops according to the followings:
| | |
| --- | --- |
| | The 2nd Joint Workshop on Natural Language Processing and Speech Recognition between University of Computer Studies, Yangon, Myanmar and Waseda University, Japan. |
| | The 1st Joint Workshop on Internet Security between University of Computer Studies, Yangon, Myanmar and Universiti Sains Malaysia, Malaysia. |
| | The 1st Joint Workshop on Green Computing between University of Computer Studies, Yangon, Myanmar and Korea Aerospace University, Korea. |
| | The 1st Workshop on Image Processing of University of Computer Studies, Yangon, Myanmar. |
| | The 1st Joint Workshop on IT Offshore Business Experiences between University of Computer Studies, Yangon, Myanmar and NTT Data Corporation, Japan. |
Call for Papers
Original papers on all aspects of computer application are solicited for submission to the conference.
Topics of interest for submission include, but are not limited to.
The conference will cover the following Topics :
- Internet Computing

- Mobile and Ubiquitous Computing

- Advanced Network Technology

- Network Security and Cryptography

- Parallel and Distributed Computing

- Pattern Analysis and Machine Intelligence

- Cloud Computing

- Cluster and Grid Computing

- Numerical Analysis

- Intelligent Databases and Information Retrieval

- Software Engineering

- Natural Language Processing

- Semantic Web and Web Services

- Image Processing and Image Understanding

- Wireless Sensor Network

- Modeling and Simulation

- Digital Signal Processing

- Data Mining and Machine Learning

- Database Technology and Data Warehousing

- Computational Biology and Bioinformatics
Paper Submission
Papers should report on original research relevant to any of the areas of computer applications with experimental and theoretical results, case studies and technology demonstrations. Prospective authors are invited to submit papers of not more than 8 pages of double column text using single spaced 10 point size type on 8.27 x 11.69 inch pages.
Each submission should also enclose the following information: paper title, author name, abstract as well as the contact information of the responsible author (postal address, e-mail address, and phone and fax numbers). Paper will be accepted only by electronic submission if possible, by email attachment.
All submitted technical papers will undergo a formal review process on the basis of technical quality, originality, significance and clarity. Prospective authors are expected to present their paper at the conference. Conference proceedings will be published both on paper and electronically and will be available to all the conference participants.
Paper submission guideline and paper format can be downloaded here.
- ICCA Guideline
- ICCA Format
Authors are cordially invited to submit your paper via online form here.

Conference Dates, Venue
Dates
Conference Date
: 28th-29th February, 2012
Submission Deadline
: 30th January, 2012
Acceptance Notification
: 10th February, 2012
Camera Ready Due
: 14th February, 2012
Venue
Sedona Hotel Yangon, Kabaraye Pagoda Road,
Yankin Township, Yangon, Myanmar.
Registration Fees
| | |
| --- | --- |
| Foreign Participants | : USD 200 |
| Local Participants | : 75,000 Kyats |
Committees
General Chair
Prof. Dr. Mie Mie Thet Thwin, Rector, University of Computer Studies, Yangon, Myanmar
Conference Organizing Committee
Prof. Dr. Mie Mie Thet Thwin, Rector, University of Computer Studies, Yangon, Myanmar
Prof. Dr. Myint Myint Sein, University of Computer Studies, Yangon, Myanmar
Prof. Daw Mu Mu Myint, University of Computer Studies, Yangon, Myanmar
Prof. Dr. Khin Mar Soe, University of Computer Studies, Yangon, Myanmar
Prof. Dr. Thi Thi Soe Nyunt, University of Computer Studies, Yangon, Myanmar
Prof. Dr. Nang Saing Moon Kham, University of Computer Studies, Yangon, Myanmar
Prof. Dr. Khin Than Mya, University of Computer Studies, Yangon, Myanmar
Prof. Dr. May Aye Khine, University of Computer Studies, Yangon, Myanmar
Prof. Dr. Mie Mie Su Thwin, University of Computer Studies, Yangon, Myanmar
Prof. Dr. Khaing Moe Nwe, University of Computer Studies, Yangon, Myanmar
Prof. Dr. Khine Khine Oo, University of Computer Studies, Yangon, Myanmar
Prof. Dr. Sabai Phyu, University of Computer Studies, Yangon, Myanmar
Asso. Prof. Daw Aye Aye Khaing, University of Computer Studies, Yangon, Myanmar

Technical Program Committee
Prof. Dr. Pyke Tin, University of Miyazaki, Japan
Prof. Dr. Mie Mie Thet Thwin, University of Computer Studies, Yangon, Myanmar
Prof. U Kyaw Zwa Soe, Computer University (Mandalay), Mandalay
Prof. Dr. Moe Pwint, University of Computer Studies, Mandalay, Myanmar
Prof. Dr. Saw Sanda Aye, University of Information Technology, Yangon, Myanmar
Prof. Dr. Win Aye, Myanmar Institute of Information Technology, Myanmar
Prof. Dr. Yutaka Ohsawa, Saitama University, Japan
Prof. Dr. Jeng-Shyang Pan, Fujian University of Technology
Prof. Dr. Jong Sou Park, Korean Aerospace University, Korea
Prof. Dr. Keum-Young Sung Handong Global University, Korea
Prof. Dr. Kun Lee Handong Global University, Korea
Prof. Dr. Sang-Mo Jeong Handong Global University, Korea
Prof. Dr. Dong Seong Kim, University of Canterbury, New Zealand
Prof. Yoshinori Sagisaka,Waseda University,Japan
Prof. Yves Lepage,Waseda University,Japan
Prof. Fang Pang Lin ,National Center for High-performance Computing,Taiwan
Prof. Dr. Uwe Woessner,High Performance Computing Center Stuttgart(HLRS),Germany
Prof. Dr. Yutaka Ishibashi,Nagoya Institute of Technology,Japan
Dr. Lennon Chang,Criminology - School of Social Sciences, Monash University,Australia
Dr. Andrew Lewis,Griffith University, Queensland,Australia
Prof. Dr. Kun Lee,Handong Global University,South Korea
Dr. Chun Ling Chen, NPTU,Taiwan
Dr. Yuhming Huang,National Chi-Nan University,Taiwan
Professor Takashi Komuro,Saitama University,Japan
Professor Yutaka Ohsawa,Saitama University,Japan
Assistant Prof. Yosuke Sugiura,Saitama University,Japan
Mr. Tajima,OPU,Japan
Mr.Kato, JICA, Japan
Prof. Dr. Thinn Thu Naing, University of Computer Studies (Taunggyi), Myanmar
Prof. Dr. Thandar Thein, University of Computer Studies (Maubin), Myanmar
Prof. Dr. Khin Mar Lar Tun, University of Computer Studies (Hinthada), Myanmar
Prof. Dr. Ei Ei Hlaing, University of Computer Studies, Taungoo, Myanmar
Prof. Dr. Tin Myat Htwe, University of Computer Studies, Kyaington, Myanmar
Prof. Dr. Myint Myint Sein, University of Computer Studies, Yangon, Myanmar
Prof. Dr. Myat Thidar Mon, University of Information Technology, Myanmar
Prof. Dr. Khin Mar Soe, University of Computer Studies, Yangon, Myanmar
Prof. Dr. Thi Thi Soe Nyunt, University of Computer Studies, Yangon, Myanmar
Prof. Dr. Nang Saing Moon Kham, University of Computer Studies, Yangon, Myanmar
Prof. Dr. Yadana Thein, University of Computer Studies, Yangon, Myanmar
Prof. Dr. Khin Than Mya, University of Computer Studies, Yangon, Myanmar
Prof. Dr. May Aye Khine, University of Information Technology, Myanmar
Prof. Dr. Mie Mie Su Thwin, University of Computer Studies, Yangon, Myanmar
Prof. Dr. Khaing Moe Nwe, University of Computer Studies, Yangon, Myanmar
Prof. Dr. Khine Khine Oo, University of Computer Studies, Yangon, Myanmar
Prof. Dr. Sabai Phyu, University of Computer Studies, Yangon, Myanmar
Prof. Dr. Khin Nwe Ni Tun, University of Computer Studies, Taunggyi, Myanmar
Prof. Dr. Aung Htein Maw, University of Information Technology, Myanmar
Dr. Abhishek Vaish, Associate Professor, Indian Institute of Information Technology, Allahabad, India
Dr. Ye Kyaw Thu, Okayama Prefecture University (OPU), Japan
Dr. Chen Chen Ding, National Institute of Information and Communication Technology, Japan
Dr. Htoo Htoo, Assistant Professor, Saitama University, Japan
Prof. Dr. Thin Lai Lai Thein, University of Computer Studies, Yangon, Myanmar
Prof. Dr. Tun Myat Aung, University of Computer Studies, Yangon, Myanmar
Dr. Thandar Phyu, PTC Systems Co., Ltd, Yangon, Myanmar
Prof. Dr. Kyaw May Oo, Yangon, Myanmar
Prof. Dr. Aye Thida, University of Computer Studies, Mandalay, Myanmar
Prof. Dr. Tin Htar Nwe, University of Computer Studies, Maggway, Myanmar
Prof. Dr. Win Pa Pa, University of Computer Studies, Yangon, Myanmar
Prof. Dr. Zin May Aye, University of Computer Studies, Yangon, Myanmar
Prof. Dr. Thet Thet Khin, University of Computer Studies, Yangon, Myanmar
Dr. Twal Tar Oo, University of Computer Studies, Yangon, Myanmar
Prof. Dr. Win Lei Lei Phyu, University of Computer Studies, Yangon, Myanmar
Prof. Dr. Khin Than Kyi, University of Computer Studies, Yangon, Myanmar
Prof. Dr. Su Thawda Win, University of Computer Studies, Mandalay, Myanmar
Prof. Dr. Kalyar Myo San, University of Computer Studies, Mandalay, Myanmar
Prof. Dr. Myat Myat Min, University of Computer Studies, Mandalay, Myanmar
Prof. Dr. Khin Thidar Lin, University of Computer Studies, Mandalay, Myanmar
Prof. Dr. Tin Thein Thwel, University of Computer Studies, Yangon, Myanmar
-->